■

Itaru Hirano もうひとつのネットワーク 平野 到(埼玉県近代美術館学芸員)
■

Frank Fuhrmann フランク・フアマン
■

Toyoko Katsumata 勝又豊子
■

Mitsunori Kurashige 倉重光則
■

Masami Yoshioka 吉岡まさみ
■ 

Satoshi Ogawa 小川 愉

Another Network
■ Itaru Hirano, Curator, The Museum of Modern Art, Saitama

Since the 1990s, situations and environments that surround artists have undergone significant changes on a global level. With discount plane tickets available, we are able to easily travel to any destination. Today, the internet contains almost all known information; thus, it is even possible for us to follow most world events in real time. The major features of the art world since the 1990s include the many large-scale international exhibitions, such as the biennials and triennials, that have come to be held in regions outside Western countries, as well as the rapid worldwide increase of artist-in-residence programs.
Upon surveying the state of the art world over the last two decades, one finds that, on the surface, opportunities for intercultural contacts have increased and international exchanges have become more active. However, this is highly questionable once we examine whether productive exchanges have truly been deepened. The answer becomes apparent by reflecting on some examples of the large-scale international exhibitions that have been held. That is to say, although such exhibitions have gathered many artists from various countries in festival atmospheres with a rich cosmopolitan character, in hindsight, quite a few of them resulted in mere transient effects. It is also undeniable that the cutting-edge art world that is exposed to the rapidly evolving information superhighway and art markets entails a certain weakness from the perspective of sustainability and interaction, which are necessary to understand and absorb different cultures.


However, if we shift our focus to a different aspect than the limelight of the art world, it is also a fact that there are artists who have firmly continued to hold international exchanges, while also utilizing those experiences as their motivation for creating their own works. Artist Frank Fuhrmann, residing in Hannover, is one such artist who has continued to exhibit his works in Japan for over fifteen years since the 1990s. Having lived in Japan for a period, he loves Japan dearly and has created quite a few works that relate to Japanese culture in his production concepts.
Fuhrmann has cited that the essential elements for artists in pursuing their activities are "the encounters with people and creating a network." He wrote the following passage for his solo show held last year at a gallery in Tokyo:

Intense competition and economic instability are the norm for artists. Beneficial to succeeding in the art world are talent, outstanding work and an indomitable spirit necessary to create works. But these elements are useless without a network. For instance, a network allows people to support one another. Such relationships are created through maintaining contacts with one's past fellow students, as well as through finding new friends with mutual interests. (from the handout for Fuhrmann's show at Gallery Gen, 2012)

 For many years, Fuhrmann has nurtured such relationships with artists and acquaintances in Japan, as he has done in  other countries. This is another type of network different from the one employed in the front stage of the art world. In  other words, "another network" is based on bonding and empathizing with people on a more personal level. This series of solo exhibitions, CHANGE—Transformative Space, is being curated by Fuhrmann, and will be held in Hannover. The participating artists are Fuhrmann himself, Mitsunori Kurashige, Toyoko Katsumata, Satoshi Ogawa and Masami Yoshioka. The latter four artists are precisely some of the people Fuhrmann met through his personal network; he has continued to deepen his relationships with each of them. Hence, it would not be an overstatement to say that this series that includes those four artists traces Fuhrmann's long years of interactions with Japan. Those interactions might have been personal and modest, but they were unquestionably far more intimate and compassionate than the empty theories often thought up by the curators of large-scale international exhibitions.


Incidentally, Hannover, where this project will be held, is relatively well known to art historians in Japan. Hannover is the birthplace of the unique 20th-century avant-garde artist Kurt Schwitters. One of the works in his architectural project Merzbau (c. 1923-33), in which he renovated his own rooms, was later reconstructed in the city's Sprengel Museum Hannover. In addition, just around the time Merzbau was being created, the Russian artist and Schwitters' close friend El Lissitzky was experimentally designing an entire exhibition space, The Abstract Cabinet (1927-1928), in Hannover. This work would also be reconstructed at that same museum. Merzbau and The Abstract Cabinet display contrastive styles, but they are both pioneering projects that were based on a consciousness toward architectural space and the entire exhibition space. Thus, both projects can be considered as works of world heritage that Hannover produced in the 1920s. When I walked around the city during my two visits there, I felt that the cross-border communication conveyed by Schwitters and Lissitzky still continued to echo far into the distance.
I sincerely hope that in concert with that echo, this series of solo exhibitions, CHANGE—Transformative Space, will generate new and fruitful interactions in Hannover, while at the same time allowing the artists to further create their networks.




もうひとつのネットワーク

■ 平野 到(埼玉県近代美術館学芸員)

 1990年代以降、美術家を取り巻く状況や環境は世界的に大きく変わった。格安航空券が出回り、どこにでも簡単に渡航できる時代になり、インターネットが情報を網羅する現在では、世界中の出来事をほとんどリアルタイムで知ることすらできる。ビエンナーレやトリエンナーレなどの大型の国際展が欧米以外の地域でも多数開催されるようになったのも、アーティスト・イン・レジデンスが急速に世界中で増えたのも、90年代以降の美術界の大きな特徴のひとつである。

 ここ20年間の美術界の様子を窺うと、一見、異文化との接触の機会が増え、国際的な交流が活発になったように見える。だが、果たして本当の意味での生産的な交流が深められているかと考えると、甚だ疑わしい。それは、大型の国際展などの事例を想像してみれば、明らかであろう。多くの異なる国の美術家が集い、国際色豊かな祭典にはなるが、結果的にその成果は一過性になってしまう場合が少なくないからだ。目まぐるしく移り変わる情報やアートマーケットに晒される最先端の美術界においては、異文化を理解し、吸収していく持続性と対話性という面で、ある種の弱さが伴うことは否定できない。



しかし、こういった美術界の表舞台とは異なる側面に目を向ければ、地道に国際的な交流を続けながら、それを自らの制作活動の原動力としてきた美術家がいることも確かである。90年代から15年以上にわたり、日本で作品を継続的に発表してきたハノーファー在住の美術家フランク・フアマンは、そのひとりだ。一時期、日本で暮らした経験もあるフアマンは日本をこよなく愛する美術家であり、制作上のコンセプトにおいて日本文化に触れたものも少なくない。


 そのフアマンが美術家として活動していく上で欠かせないものとして挙げるのが、人々との出会いとネットワークなのである。昨年、東京にあるギャラリーで個展を開催した際、フアマンが寄せた文章のなかに、こんなくだりが登場する。

 「激しい競争と経済的不安定はアーティストの常である。アートの世界では、才能、優れた仕事、そして何かを創造するための不屈の精神がものをいう。しかし、これらもネットワークなしには役に立たない。このネットワークでは、例えば人々が相互に援助し合う。それらは、かつての学生仲間とのコンタクトを絶やさず、又互いに興味を持つ者同士との新しい友情のあるところに生まれるのだ。」(2012年、ギャラリー現での個展における配布資料より)


 フアマンは、こういった美術家や知人との交流を、日本でも長い間、大切に育んできた。それは、美術界の表舞台のネットワークとは異なる、もうひとつのネットワーク、即ちもっと個人的な結びつきや共感と言って良い。今回、フアマンの企画によりハノーファーで開催される連続個展「CHANGE-変容する空間」に出品するフアマン自身と倉重光則、勝又豊子、小川愉、吉岡まさみは、まさにこの個人的なネットワークを通じて知り合い、親交を深めてきた美術家なのである。だから、これらの美術家による連続個展とは、フアマンと日本との長年にわたる対話の軌跡といっても過言ではないはずだ。その対話は個人的でささやかなものかもしれないが、大規模な国際展のキュレーターが考える空虚な理論よりも、はるかに親密で血が通ったものであるに違いない。

 

 ところで展覧会が開催されるハノーファーといえば、日本の美術関係者にとっても比較的知られている都市ではなかろうか。ハノーファーは20世紀の特異な前衛芸術家、クルト・シュヴィッタースの生地であり、同市のシュプレンゲル美術館には、シュヴィッタースが自室を改造した建築的プロジェクト《メルツバウ》(c.1923~33年)が再構成されている。また、《メルツバウ》がまさに誕生していく時期に、シュヴィッタースと親交を深めたロシアの芸術家エル・リシツキーが、ハノーファーで試みた実験的デザインの展示室《抽象の部屋》(1927~28年)も、同じ美術館で再構成されている。《メルツバウ》と《抽象の部屋》は対照的な作風だが、建築的空間や展示室全体を意識した先駆的なプロジェクトであり、1920年代のハノーファーが生み出した世界的な遺産といえる。筆者も二度ほどハノーファーを訪れたことがあるが、街を歩いていると、シュヴィッタースとリシツキーの国を超えた対話が、今も遠くにこだまし続けているように思える。

 このこだまに呼応しながら、今回の展覧会「CHANGE-変容する空間」がハノーファーに新たな実りある対話をもたらし、更なるネットワークを生み出すことを願ってやまない。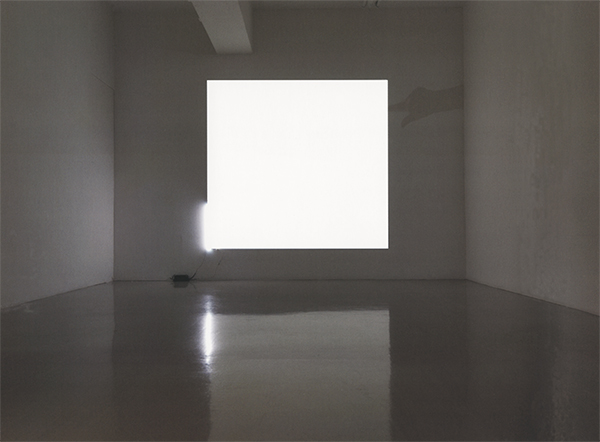 Indefinite Square -hand drawing 2011
video installation neon Steps Gallery. Tokyo
Mitsunori Kurashige  
■ 倉重光則
One day in 1968....
I placed a lit fluorescent light from the ceiling fixture on the sheets of newspaper that I spread out so that I could paint, and discovered that the letters along the edges of the light had disappeared because it was too bright. The light that was supposed to make the letters visible instead indecipherably erased them. The light not only erased the letters but even the meanings.
That experience allowed me to feel an exquisite pleasure.
I discovered the fact that a fluorescent light simultaneously possesses the function to make things visible and invisible.
A fluorescent light provided the reality that light in fact can erase things.
The act of creating a work is not aimed at reproducing the image as it is possessed by the artist's inner self (the subject). Rather, an artist begins from the realities and facts that have been provided to him/her through his/her own experiences. Meanings that are originated and produced from that initial point can be manifested within the synchronous space of the "here and now."
The act of producing a work means that the artist is creating the device and conditions that can automatically generate meanings.
During the time of production, it is important that the subject/artist is present in the work in the form of the Other.

1968年のある日、、、、。
絵を描くために敷き詰めていた新聞紙の上に、天井の蛍光灯を置いてみたところ、蛍光灯のへりにある新聞紙の文字が明るすぎて消えていた。ものが見えるようにするための光がものを読めなく消している。光は新聞に書かれた文字とその意味さえも消していた。
その体験は私に強烈な快感を与えてくれた。
蛍光灯の光はものを見せるための機能と同時にものを消すという作用をもっている。その事実を発見した。
消滅する現実、それは蛍光灯の光によって与えられた現実である。
作品を作るということは自己内部(主体)としてのイメージを再現することではない。むしろ、体験して与えられた現実と事実から出発する。そこから生まれ、生産される意味は「いま、ここ」という同時空間の中で現れる。
作品を作るということは自動的に意味を生み出す装置と状況を設定することである。
この時間的な持続の中で作家としての主体を他者として存在させることが重要である。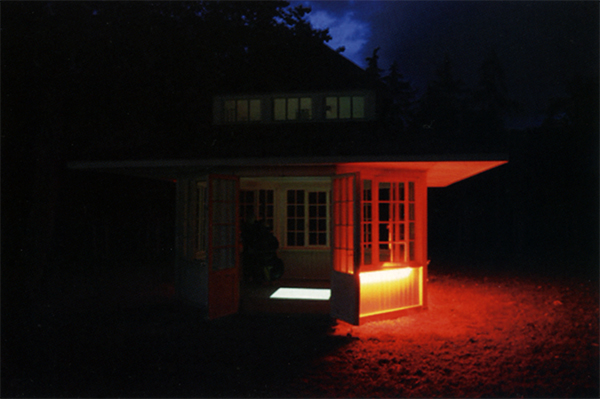 The Flickering Square 2011 (DARK LIGHT)
video installation neon kunst und Begegnung Hermannshof e.V. Germany